We want to invite you to our presentation about Royal Russell new and first in Lithuania Boarding School in Vilnius. The event will be hosted on the 22nd of April between 10:00 and 15:00 (two sessions) and is for families who want to understand the process of being offered a place at our new British school in the heart of Vilnius. The entry is free. Please register as we have limited spaces.
Key Speakers
Neil Cufley – Director of Operations | Board Chair | Trustee | Leader of Education
Sharon Ashbourn – Early Education Specialist and Head Teacher at Royal Russell
Schedule:
Sharon: British early years and primary education in a European setting.
Sharon: Third Culture Kids and English as an Additional Language.
Neil: Secondary Education, GCSE exams and A levels.
Neil: Boarding School Education, the Royal Russell Way.
Radisson Blue Hotel – Vilnius
Saturday – 22nd of April 2023
Two sessions | 10:00 – 12:00 and 13:00 – 15:00
Please register here. Spaced are limited.
New Royal Russell educational institution is planned to open in 2024 in the complex being built near Lukiškiau Square. This will be the first school with accommodation service in Lithuania. Royal Russell school in Vilnius will accept children aged 2-18.
Royal Russell new stunning campus will be opening in 2024 in the center of Vilnius. New modern campus will feature state of the art premises, classrooms and facilities. The new campus will establish Royal Russell as one of the most prestige schools in Baltic countries.'
Our beautiful campus is situated in the heart of our beautiful city, just minutes from Central Vilnius. We have a delightful mix of historic buildings and state of the art facilities to provide a happy, safe and stimulating environment for all our pupils. We hope that our school will attract local and foreign students and help popularize Vilnius and Lithuania among the world's academic community. We believe that the Vilnius is a vibrant and cosmopolitan city with educational achievements and a bright future.
Royal Russell school in Vilnius – "Vasario 16-osios"
The new premises will be equipped with a sports center, modern laboratories and art spaces, as well as teaching rooms, and children and students will be cared for by qualified staff.
Lessons at the school will follow the UK curriculum and will be taught in English by native-speaking teachers. Students will be able to additionally study various languages, including Lithuanian, Spanish and Japanese, as well as natural sciences, humanities and mathematics.
Bespoke Royal Russell education mean we can support your child to realise their vision of success, supported by expert tutors, teachers and coaches. We believe in a total education – encouraging pupils to extend their learning beyond the curriculum through enrichment activities and cultural experiences.
New campus facilites include:
•
New and modern science and technology laboratories
•
Indoor and outdoor dedicated early years play areas
•
Indoor volleyball court
•
Indoor full size basketball & football court
Cutting-edge new building
The new international Royal Russell Vilnius school will become an attractive place for students for studies, research and meetings.'
With the new building, the School will get an international cutting-edge learning environment on the international forefront, where research and education can be developed to meet the needs of society, and where faculty, staff and students will flourish and enjoy working, studying and spending time. The new building also makes it possible to gather all departments at one address.
The unusual brass-and-glass structure will rise on "Vasario 16-osios" street and house lecture halls, an auditorium, academic spaces, student lounges, stores and a 300-bed boarding school. Horizontal and diagonal bands of glass on the sides of the building will allow pedestrians to see students and faculty members circulate along corridors and stairwells.
New building construction safely continues through the 2023 with the construction team set to add permanent power by the start of 2024. Now, in February 2023, you can see the exterior of the new building is shaping up, as work on the interior progresses as well, more of a final picture of what the new building will look like for our Stars.
"This is the cornerstone in our plan to grow the Royal Russell  School through new faculty, increased enrollment, and additional staff, and increase our engagement with the community through building a central hub for connection between business leaders, our research faculty, and our students."
Nursery and School buildings
Gross floor area
6,290 m²
Number of conference rooms
3
Boarding School
Gross floor area
17,612 m²
Number of conference room seats
360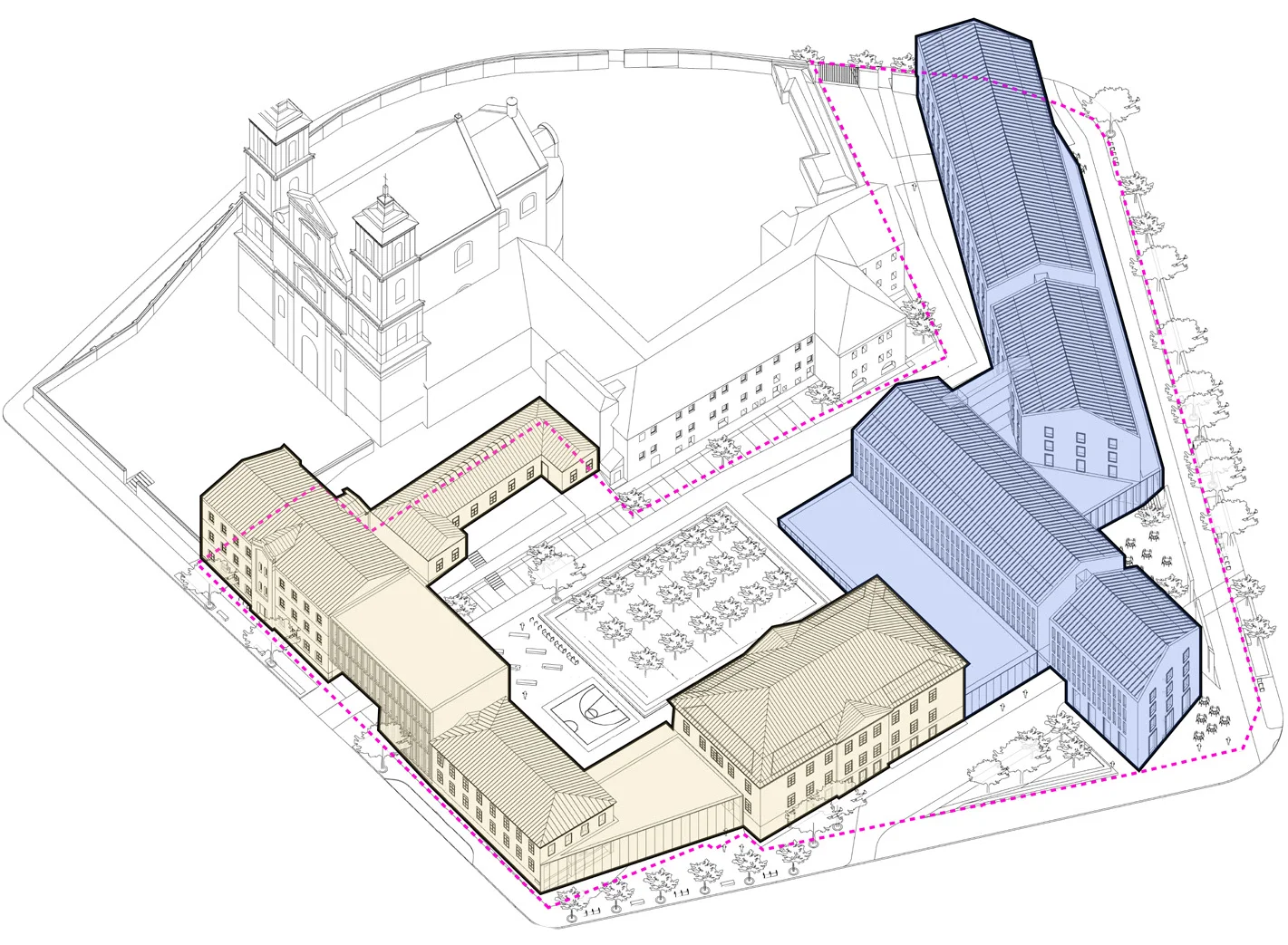 A broad curriculum
The new building will have 23,902 square m. of assignable space within 41,400 in total gross square m. '
"Preparing for the future — that's the whole goal of schools. A lot of inspiration for how to do that comes from the space that you're in … We think the future of the workplace is much more based on collaboration," said Aleksej Golubovskij, director of the Royal Russell School – Vilnius.
We were motivated to create through design a home base for the school and to activate this area of campus, making a place where people will want to come and spend time and hang out.
Land plot of the project is divided into 3 zones – buildings, recreational school park, car passage-drive and a leisure park. A running tracks longer than 100 m are planned on the land plot. Planting of trees and shrubs, installation of a relief bicycle track and a children's playground are designed in leisure park project. The closed area of ​​the school, highlights by an abundance of nature and leisure grounds and is designed for activities and recreation of students and staff.
Everything we do is underpinned by an unrelenting commitment to our values. At the Royal Russell School the vision is for each pupil to graduate as an avid and thriving young learner. Our students will actively seek learning opportunities in all aspects of their lives and will acquire the requisite foundation of knowledge and skills to excel in the learning challenges ahead.
Can I tour the Boarding Houses and School?
Please get in touch with us at [email protected] to arrange a visit during your trip so that you can truly experience the atmosphere and character of our school. You will have much to discover and consider when choosing a boarding school and we are here to help you. If this is not possible, interviews can be carried out via Skype, WhatsApp, Facetime, WeChat or Zoom.
What other opportunities are there to visit the school?
We run open days, and personal visits can be arranged by appointment throught the year. Individual families or small groups are welcome to view our outstanding on-site facilities and meet our staff and pupils at a mutually convenient time during any working school day.
What is the application process?
Candidates should submit copies of their latest school reports before sitting test papers in Maths and English. The final stage is an interview online or in person.