Boarding at
Royal Russell
New Royal Russell Boarding educational institution is planned to open in 2024 in the complex being built near Lukiškiau Square. This will be the first school with accommodation service in Lithuania.
Our boarding houses are situated at the heart of our beautiful campus, just minutes from Central Vilnius. We have a delightful mix of historic buildings and state of the art facilities and provide a happy, safe and stimulating environment for all our pupils. Our supportive environment nurtures and empowers our pupils to achieve outstanding academic and co-curricular success.
Our beautiful new campus in Vilnius includes a delightful mix of historical and state of the art buildings. Our happy, safe and stimulating environment is home to both day and boarding pupils.'
Children who join our warm and welcoming community settle in quickly and develop lifelong friendships with pupils of all ages from diverse backgrounds and cultures. Learning at Royal Russell extends well beyond the classroom; weeks are full of trips and activities, fixtures and outlings.
We are delighted you are considering
Royal Russell School for Boarding
• Boarding places from Year 7 upwards.
• First intake September 2024
We offer excellent facilities for study, areas to relax in and staff and pupils who create a friendly and supportive environment. Boarding helps pupils to become more independent. They develop long lasting friendships with pupils of all ages from different backgrounds and cultures.
Pupils can study in an organised environment and outside of study time make the most of the extensive co-curricular activities on offer, including a full programme of activities and trips operating every weekend for our student's participation and enjoyment. Our Boarders achieve excellent results in their GCSE and A level examinations and accept places at the best Universities in London and the UK. Pupils leave Royal Russell as confident and responsible young adults.
Boarding at Royal Russell School provides pupils with:
•
A family school with outstanding bespoke pastoral care
•
Exellent GCSE, A Level and BTEC results
•
A fantastic range of co-curricular activities and clubs
•
Flexible boarding options
•
Great food with an incredible variety
•
Convenient location, just 10 minutes from city centre
Boarding houses become a home away from home for our pupils in the term time. Each house provides the spece to study, relax, and enjoy being with friends. Being a part of a house fosters a sense of community, helps to build solid friendships and encourages friendly competition.
We have four new, state-of-the-art boarding houses; these are led by an incredible team of housemasters and housemistresses who are devoted to the children in their care. In addition, senior pupils and staff members fulfil a unique role in creating our family atmosphere that develops Russellians into happy, positive and thriving community members.
Not for Oneself
but for All
Our school's motto – 'non sibi sed omnibus' translates to Not for Oneself but for All and is at the heart of our community. Our international community of boarders brings many talents and skills that develop a shared learning experience that makes Royal Russell an extraordinary school.
Our new boarding houses have a home from home design for our pupils. Each house includes TV and games rooms, kitchen and dining areas, quiet study and tutorial spaces, an onsite laundry and plenty of spaces to relax with friends.
All our boarding houses display a relaxed family atmosphere with a powerful sense of community. Our pupils develop resilence and communication skills whilst they settle into daily life at Royal Russell; they support one another to excel in academics and celebrate each other's successes.
We have two boarding houses. Every year group is represented in each boarding house, and pupils can develop friendships with peers from across the school. Older pupils have a vital role to play in welcoming, caring for and mentoring younger pupils.
Boarding School
Gross floor area
17,612 m²
Number of conference room seats
360
Educational purpose buildings
Gross floor area
6,290 m²
Number of conference rooms
3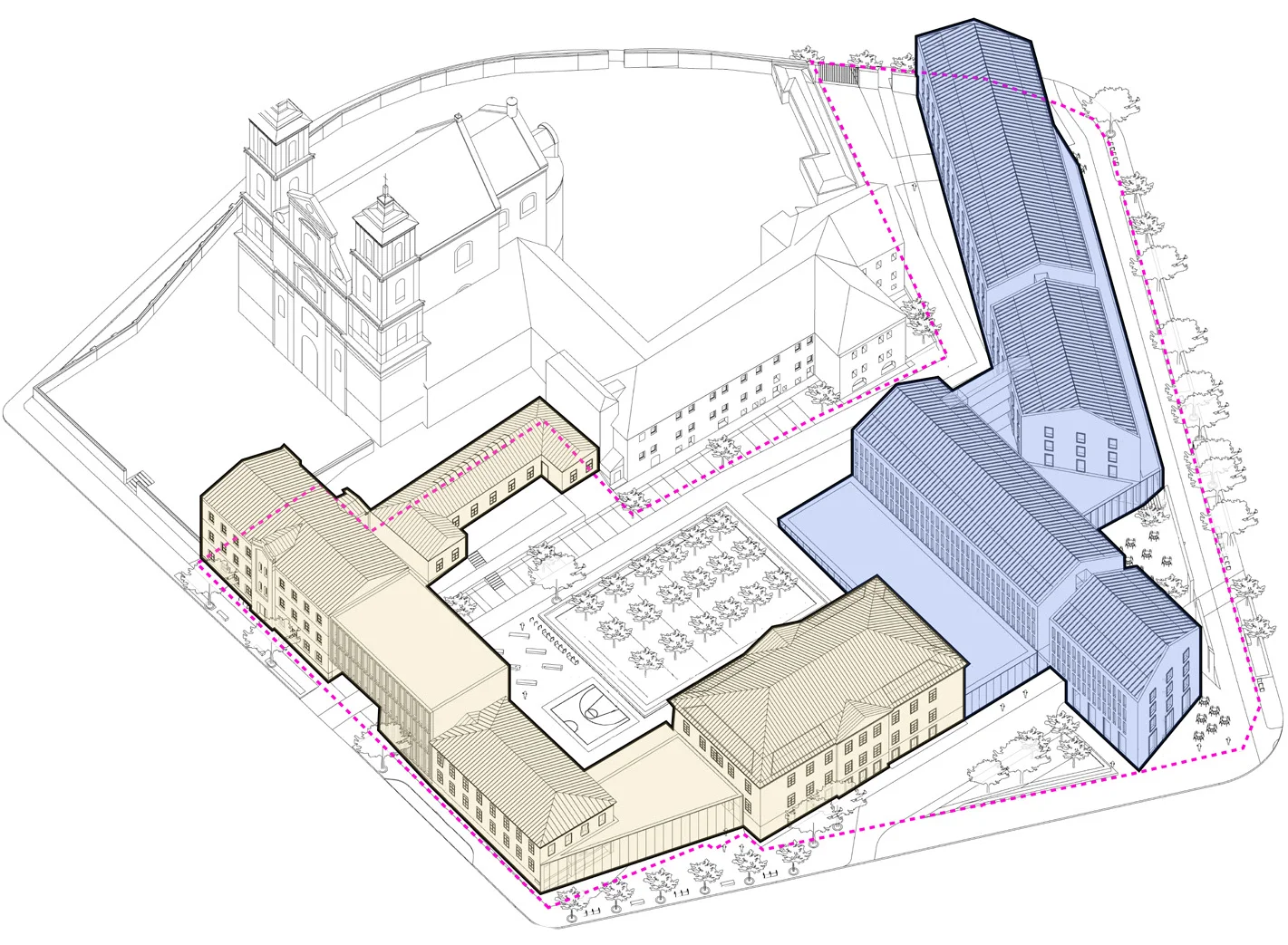 A broad curriculum
We provide as broad a curriculum as possible before pupils choose their GCSE subjects so that they can have the opportunity to challenge themselves and explore new ways of learning.'
Our broad and stimulating curriculum, high dedicated staff and the latest in learning technology combine to spark imaginations. Our pupils have an extraordinary range of talents which we nurture and celebrate.
We know that at Royal Russell, the best learning takes place with girls and boys working together, problem solving and benefiting from different interpretations, perspectives and learning styles. Emphasis is placed firmly on effort, both academic and in the wide tange of co-curriculum activities on offer to enrich learning. Hard work and commitment is expected, recognised and rewarded.
We provide as broad a curicullum as possible before pupils choose their GCSE subjects so that they can have the opportunity to challenge themselves and explore subjects and new ways of learning. This approach prepares pupils for their public examinations as well as life beyond Royal Russell.
As we take the time to know every child, we can recognise those pupils who need to be stretched more and those who would benefit from some extra support.
Each pupil is guided through a bespoke educational pathway from Year 7 through to Year 13 based upon their individual learning needs.
Exclusive co-curricular activities
The development of social skills, confidence, leadership and resilience are not developed through purely an academic curriculum. We encourage a healthy balance of academic rigour and co-curriculum participation, where pupils can try something new, explore alternative interests and unearth hidden talents.
We run an exciting programme of enriching clubs and activities, in which all pupils are encouraged to participate, to enhance their studies, learn new skills, extend their friendhip groups or simply just to have fun and relax at the end of a busy school day.
Our Model United Nations (MUN) programme is second to none in the UK and our own annual conference, held in October, has an international reputation for excellence. We have an active Combined Cadet Force (CCF) who train weekly in Army and RAF sections. Our cadets attend prestigious leadership courses and travel to many residential camps at military bases throughout the year.
There are over 100 acitivities on offer every year and pupils are encouraged to try something new. There is something for everyone, from creative and expressive clubs to physical and mentally challenging clubs.'
Regular weekly activities
Royal Russell has an extensive range of activities running for all pupils at lunchtimes and after school. Among the most popular are Sport clubs (e.g. Football, tennis, hockey, basketball, table-tennis, netball and swimming), Music (e.g. Jazz Band, Swing Band and Choir), Drama, CCF (Combined Cadet Force) and Model United Nations (MUN). Some of the more unusual include Bridge Club, Scratch Game Creation Club, Driving School and Puzzles & Games Club. There are also opportunities for pupils to learn another language outside of normal lessons.
Regular weekend activities for boarders
Boarders have access to the sports facilities during the weekend as well as their own in-house facilities. There are also regular activities such as Cooking club and Japanese language lessons. If all else fails it is only 10 minutes walk to the fantastic selection of shops and restaurants in Vilnius.
Boarders Activities – Sunday trips
There are an amazing range of trips available for all ages on Sundays. We are always seeking boarders opinions to see where they would like to go. Trips such as go-karting, Theme Park and Cinema are always popular. But there are many more. This year we have had several Craft Workshops on site which have proved very popular.
Bespoke
pastoral care
At all ages, students' spiritual, moral, social and cultural development is excellent; they are self-aware, confident, tolerant and respectful. Relationships throughout the school are excellent.'
We pride ourselves on our supportive, caring and inclusive community.
Pupils have access to experienced and sympathetic housemasters and mistresses a deputy and a tutor team. All houses have senior prefects whose role is primarily pastoral; an onsite medical centre, a school counsellor, and a GP regularly visits the school. There is always a qualified and caring member of staff available for pupils to turn to if they wish.
Each pupil benefit from our bespoke pastoral, approach which we develop through open channels of communication and time spent getting to know one another. We aim to establish warm, friendly relationships with parents through regular email updates and telephone conversations.
A school with heritage
Royal Russell was founded in 1853 as a charity to look after orphans of families from the textile trades. Former Prime Minister Lord John Russell became President of the school and the majority of pupils were supported by generous donations and scholarships.
The famous author Charles Dickens spoke to those who supported our school in a speech he made at the London Tavern in 1857; 'This is a school which provides such a home as their own dear children might find happy refuge in, if they themselves were taken early away. And I fearlessly ask you, is this not the sort of school which is deserving of your support?'.
Royal Russell is proud to have enjoyed Royal Patronage from its foundation, and for having The Queen Elizabeth II as our Patron during her reign. She inspired generations of Russellians throughout her life and service.
Reference to our heritage can be seen throughout the School in the many plaques laid by our generous benefactors, the stained glass in the Chapel and Great Hall and the many portraits of Queen Elizabeth II, Presidents and Headmasters. The original architecture, designed by Sir Aston Webb, is also reflected in the sympathetic design of our more modern buildings.
Our school dates back almost 170 years and we are incredibly proud of our heritage, we are very much a forward thinking 21st century school, equipping pupils to be global citizens, confident in their unique skills and abilities.
Can I tour the Boarding Houses and School?
Please get in touch with us at [email protected] to arrange a visit during your trip so that you can truly experience the atmosphere and character of our school. You will have much to discover and consider when choosing a boarding school and we are here to help you. If this is not possible, interviews can be carried out via Skype, WhatsApp, Facetime, WeChat or Zoom.
What other opportunities are there to visit the school?
We run open days, and personal visits can be arranged by appointment throught the year. Individual families or small groups are welcome to view our outstanding on-site facilities and meet our staff and pupils at a mutually convenient time during any working school day.
What is the application process?
Candidates should submit copies of their latest school reports before sitting test papers in Maths and English. The final stage is an interview online or in person.