Royal Russell is one of the leading and prestige private schools in London. It is a happy, vibrant and ambitious community offering complete education for young Girls and Boys age 2 to 18. We are immensely proud to announce that Royal Russell is opening its doors to Lithuanian and international students in Vilnius.
Royal Russell School, one of the best private schools in England and the UK, provides an exceptional education to local and international students that today represent 25 world countries.
At the Royal Russell School the vision is for each pupil to graduate as an avid and thriving young learner. Our students will actively seek learning opportunities in all aspects of their lives and will acquire the requisite foundation of knowledge and skills to excel in the learning challenges ahead.
Great schools recognise that learning is lifelong, therefore at Royal Russell we strive to inspire each pupil and equip them with skills that will ensure their success in the long run. Everything we do is underpinned by an unrelenting commitment to our values. We ensure that every pupil follows a unique learning journey by offering challenging, demanding and exciting lessons delivered by passionate and dynamic teachers who are experts in their field.
From nursery to Sixth Form, our education will foster curiosity, celebrate scholarship and enable discovery, creating confident, independent learners. With our small class sizes we are able to know your child well and provide the individual attention they need to succeed, both academically and in the extensive range of co-curricular opportunities on offer.
Why choose Royal Russell?
British school in the heart of Vilnius
Royal Russell school in Vilnius educate according to the British Education curriculum, which is recognized internationally.
Professional, qualified teaching specialists
Our team of specialists are guides in the educational process, helping to develop the independent ability to think, learn and solve problems.
A vital individual attention to succeed
With our small classes we ensure that each pupil receives the vital teacher attention and promotes personalised learning.
Exceptional educational environment
Our educational environment is designed to encourage children's curiosity, motivation to learn and create, to cooperate, to work in a team.
Royal Russell New Campus
New Royal Russell educational institution is planned to open in 2024 in the complex being built near Lukiškiau Square – "Vasario 16-osios". This will be the first school with accommodation service in Lithuania. Royal Russell school in Vilnius will accept children aged 2-18.
The new campus will establish Royal Russell as one of the most prestige schools in Baltic countries.'
Our new beautiful campus will be situated in the heart of our beautiful city, just minutes from Central Vilnius. It will feature a delightful mix of historic buildings and state of the art facilities to provide a happy, safe and stimulating environment for all our pupils. We hope that our school will attract local and international students and help popularize Vilnius and Lithuania among the world's academic community.
Royal Russell promote a caring, happy ethos and value working in close partnership with families to meet the needs of each child. Our vibrant learning environment and our highly qualified, dedicated staff combine to support all our children through their first steps of development.
Royal Russell welcomes children from different communities with all cultural backgrounds, as well as children with special needs.
Our aim is to build upon every child's natural curiosity. We inspire a love of learning, exploration and creativity. We offer a safe and well-resourced learning environment designed to stimulate imagination, social interaction and the development of a range of skills, ensuring that your child will grow in confidence and be fully prepared for transition into the next step of their educational journey. We focus on the joy of learning, happiness, self-esteem and confidence.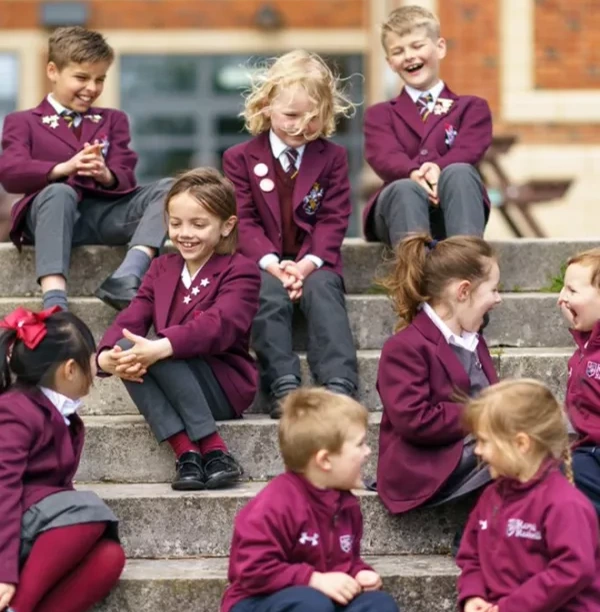 At the Royal Russell, we recruit highly qualified education professionals who are experienced and fully committed to providing outstanding international and British education to children and young adults. Together with our team we ensure that students learn and grow within a caring community. We have no doubt in asserting that our teaching team is truly world-class and on par with the best independent schools in the UK.